No Samplers Left Behind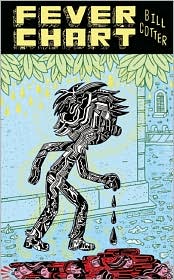 Just a quick note to complete unfinished business: when I posted some comments on McSweeney's 31, I mentioned it came with a "summertime sampler." I said I'd probably talk about this sampler later. So here's later.
The sampler is 16 tabloid-sized pages long, and it includes samples from three novels published by McSweeney's: Bill Cotter's Fever Chart, Jessica Anthony's The Convalescent, and James Hannaham's God Says No. You can read shorter samples of the first two of those novels here and here.
I guess a sampler is meant to entice you, so that you can't wait to get your hands on the full-length novel. With that in mind, the only sample that made me want to read ahead was that of Cotter's Fever Chart. It's about a man who recently left the Boll, a psychiatric center. All sorts of foul things happen to him on the outside, from a house without a heater in winter to the same house, whose heater doesn't switch off now and is thus out to spew mattresses in balls of fire. Another patient, Martha, becomes important in the narrator's life, and interest builds up around her apparent death as the sample ends.
The Convalescent starts off by parading information only an omniscient narrator would know, and then it falls back on a first-person narrative starring Rovar Pfliegman. Pfliegman is filled with information, and quirky longings, like his desire to feel like a full-blooded Hungarian. He is very short and very hairy, and things just don't ever work out for the Pfliegmans, the last of whom is Rovar. He sells meat off a bus that lost its mobility after an accident.
Finally, the sample from God Says No shows a man who drifts away from his religiousness, in part motivated by his attraction to men (even as his marriage to a woman called Annie draws near). The narrator is pained by his own desires. There are a couple of good lines, like so: "if Jesus is answering your prayers, you must be asking for the wrong shit." The blows delivered to religion are cheap, and rather disingenuous. The bildungsroman part of the story was more interesting.
In general, though, I must say these novels, at least in the bits presented in the sampler, seem to try really hard to impress. They're in-your-face funny, and in-your-face wild (especially the first two). So wild, in fact, that you can no longer be surprised by anything that happens. For instance, I had enough of Pfliegman with the pages I read; I can't imagine a whole novel along the same lines. Yes, it still made me laugh all the way to the end of the sample, but it sometimes read like watching a brainy sitcom in fast-forward. Something similar could also be said about Fever Chart. If the sampler works, and I do turn to any of the novels, I'll post something about it.